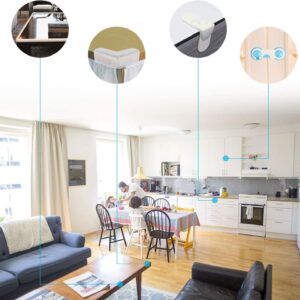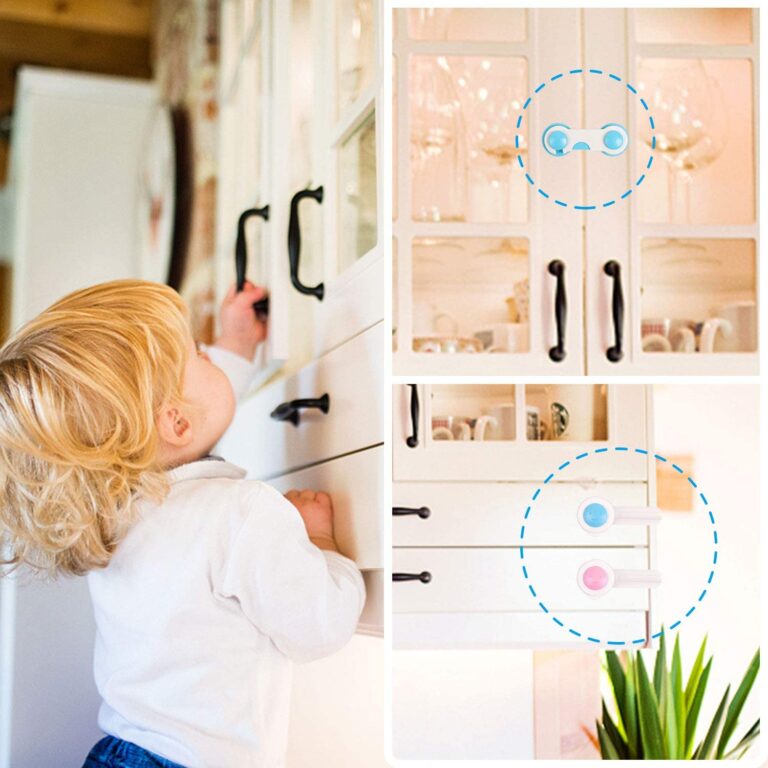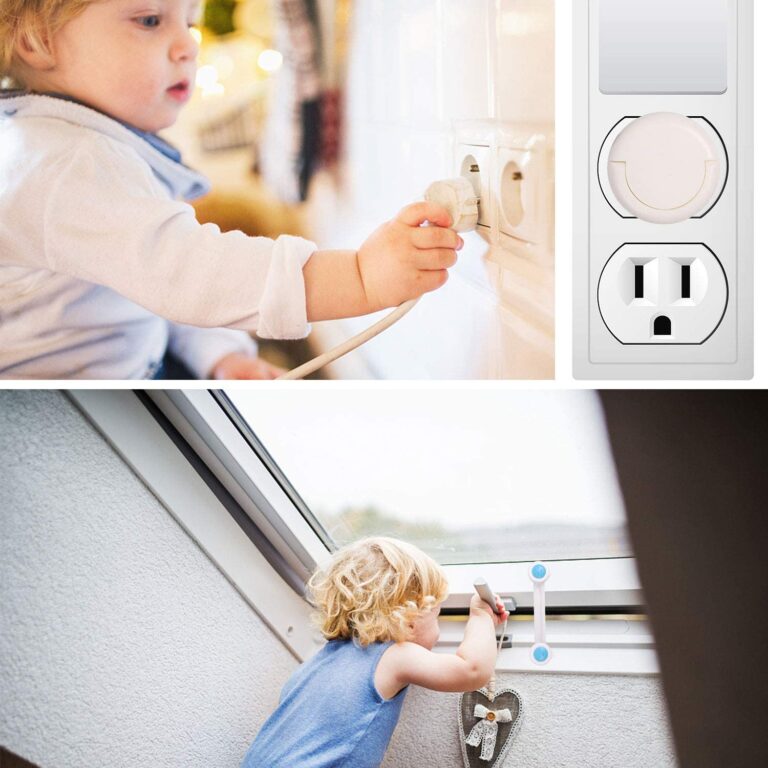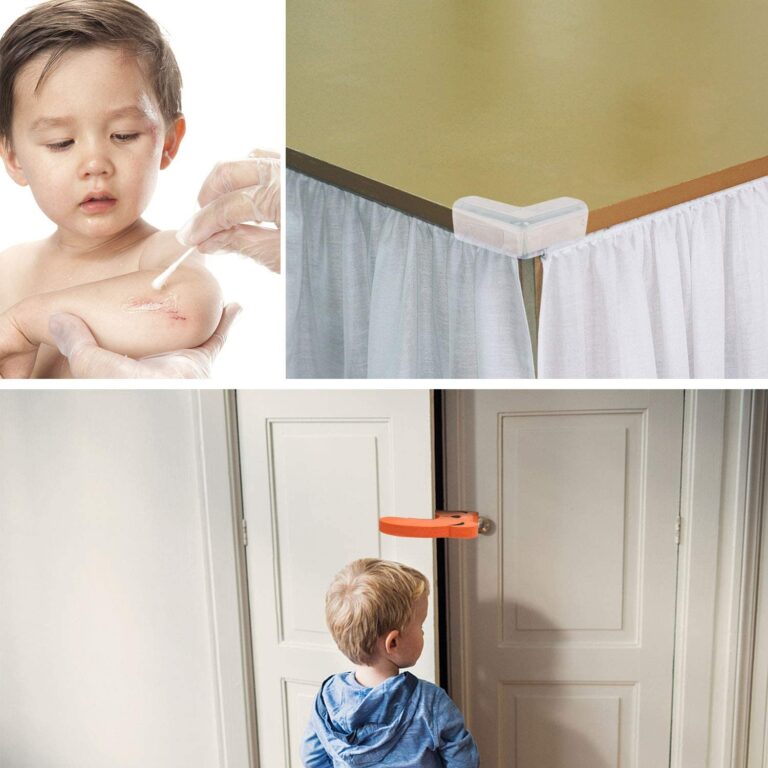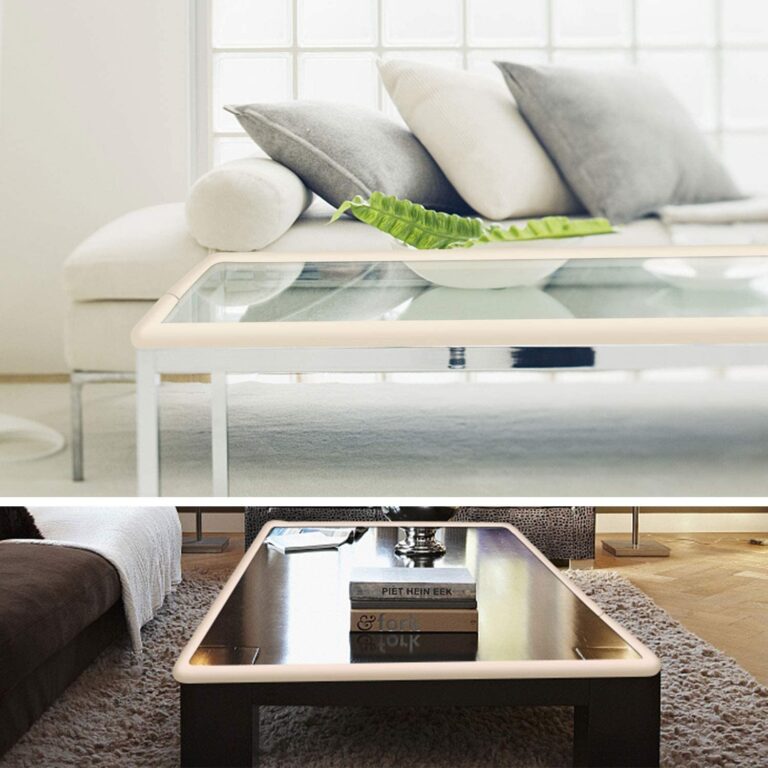 ABirdon Baby Safety Kit 44 Pcs, Baby Proofing Kit Including Corner Protectors, Child Safety Cupboard Locks, Socket Covers, Foam Door Stoppers, Edge Bumper Strip, Double-Sided Tape, No Screws Drilling
Product Description
---
Product Description
Our Child Safety Protection Set has 44pcs, included:
4 Door Stoppers
12 Transparent Corner Guards
12 Socket Covers
6 Short Cabinet Locks
4 Long Cabinet locks
4 Right Angle Lock
1 roll double-sided tape
1 Edge Bumper Strip 78.7in
4 Door Stoppers Protection
When the door is closed by strong wind or man-made accidentally, provides a soft cushion between the door and door frame, it will not pinch the baby's hand; Eliminate the risk of the baby staying alone in the room, reduce more possible injuries for the baby.
They come with a vivid cartoon look and lightweight, flexible EVA material. Your little baby will like it!
Just push the door toward the middle of the door stopper!
6 Round Transparent Corner Guards

Clean and dry the furniture' surface, remove the paper, put the double-sided adhesive sticker on the corner protectors, press the corner guards toward the sharp, smooth edges of the furniture. Firmly hold at least 60 seconds and wait 24-48 hours for full adhesion.

6 Right-angle Transparent Corner Guards

This is the answer to your sharp furniture corners, stick tightly to wood, metal, tiles, or plastic tables, better protect your children from the Injuries and bruises caused by sharp furniture. The color is transparent and will not affect the beauty of your furniture.

12 Socket Covers(6*2-seater socket cover+6*3-seater socket cover)

Babies are always curious about all kinds of new things. Some babies will even reach their hands into the socket or stuff things into it. This is very unsafe. Using our socket cover can avoid accidentally electric shock. Better to protect the baby from harm.
6 Short Cabinet Locks

This kind of cabinet lock is made of healthy and safe ABS material, which is non-toxic and tasteless.

Usage: Remove the adhesive paper, fix it in the corner of the furniture, after installation, please do not take it out, preferably leave it for about 1 day before use, so that it can stick tighter.

4 Long Cabinet Locks

It can be used in appliances, cupboards, drawers, toilet seat cover, etc. Offer all-around security for practically all common furniture and devices. Solved the possibility of child safety loopholes, Protect your child's safety in all aspects. It can make babies and children live healthier and safer.

4 Right Angle Locks

It is easy to remove and will not leave marks on your cabinets or other surfaces. The fixings are secured with high-quality tape to keep your locks in place. The included roll of double-sided tape provides better quality protection to the product. If the product does not stick and falls off, use the attached double-sided tape and stick it on again to use it again.
78.7in Edge Bumper Strip
Let's give them more safe and secure spaces with our baby safety edge bumper strip.
High-density foam is the perfect balance of soft impact and thickness and seamlessly blends into your decor, no tools needed, stick the anti-collision bar with strong adhesive tape on the edge of the table, to prevent baby's head get injured from hitting the table. Easily removes with a hairdryer or warm wet cloth. Leave no lasting residue and cause no damage to your furniture
Usage:
1. Tape the Adhesive
2. Peel Off the Backing of the Tape
3. Cut the Cushion into Pieces You Want
4. Positioning the Cushion on the Edge to be Covered
Remember: Before all of these, keep the surface clean and dry completely