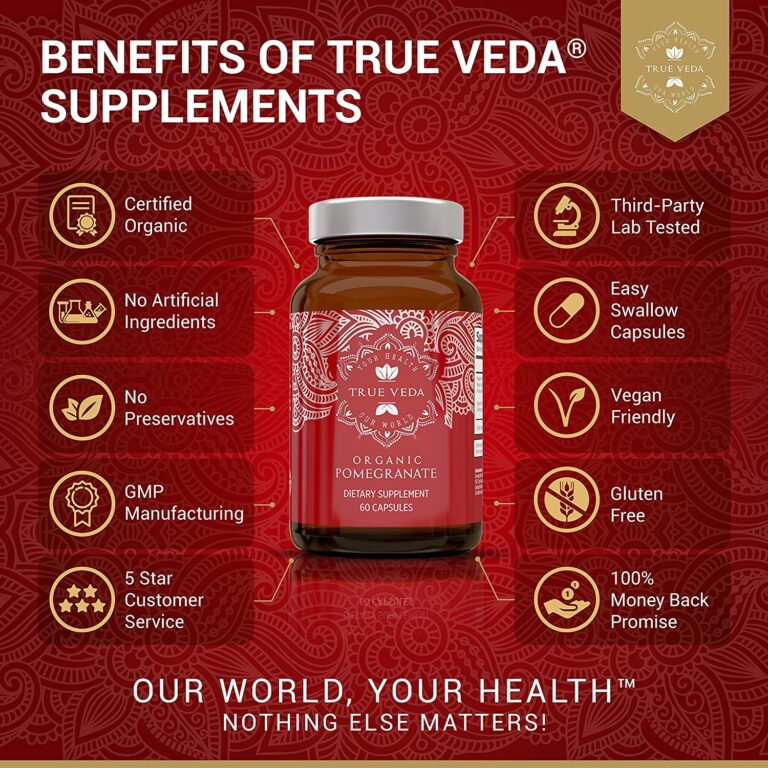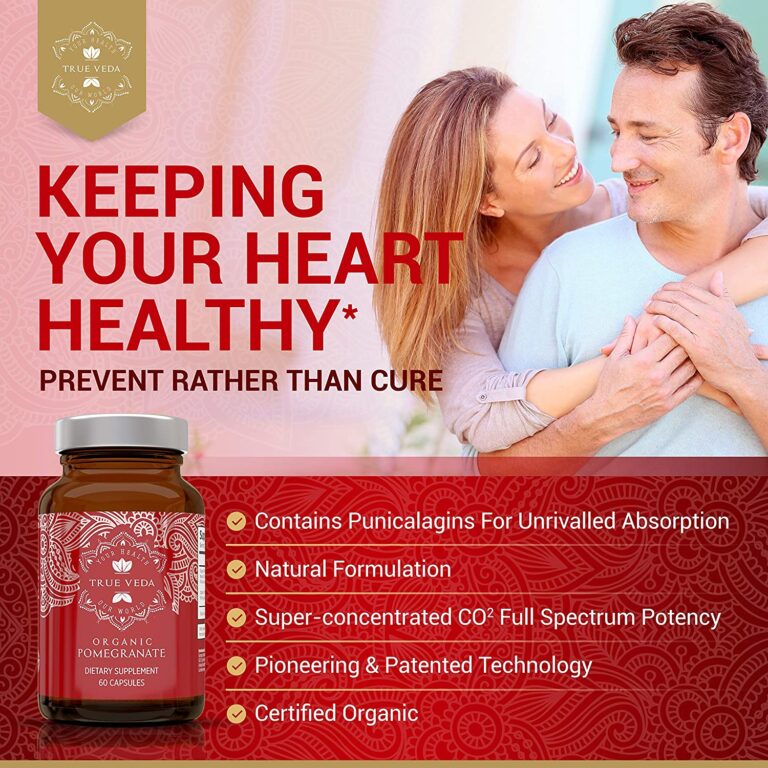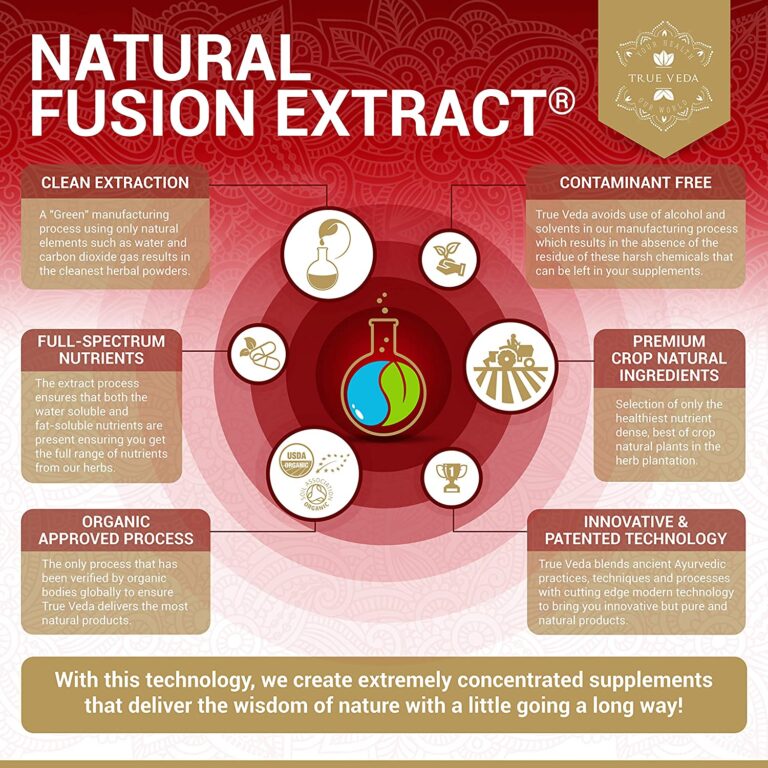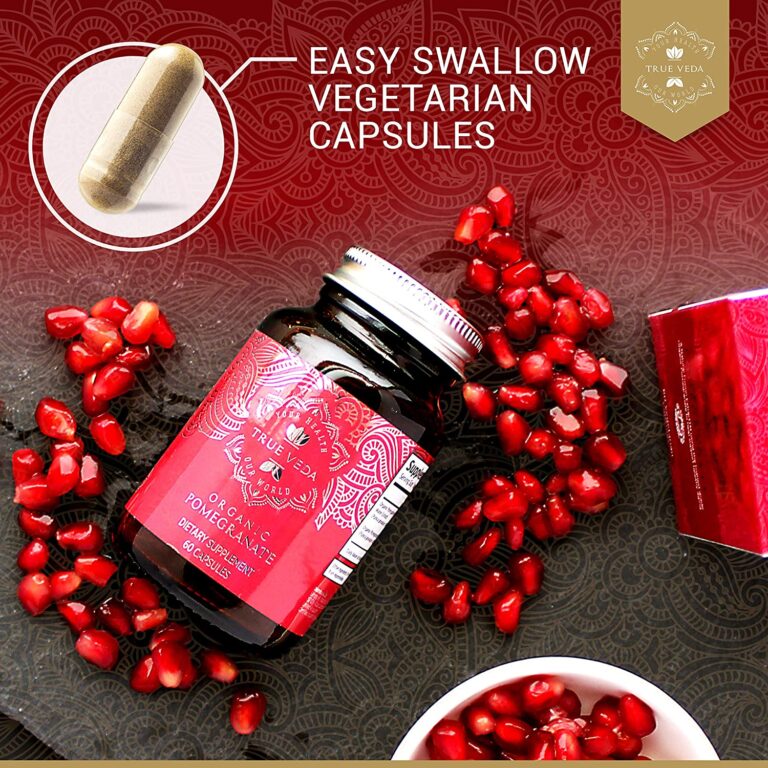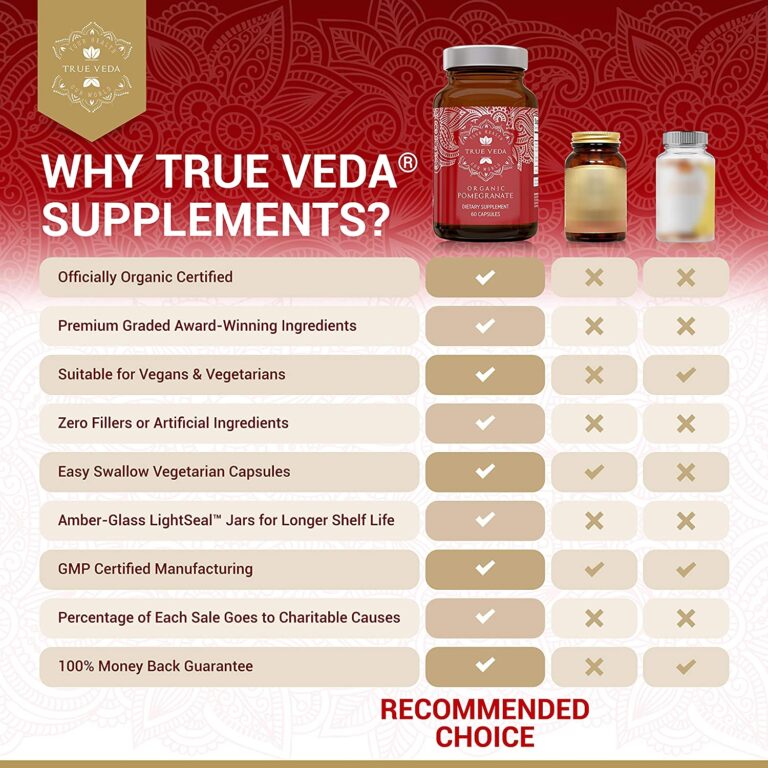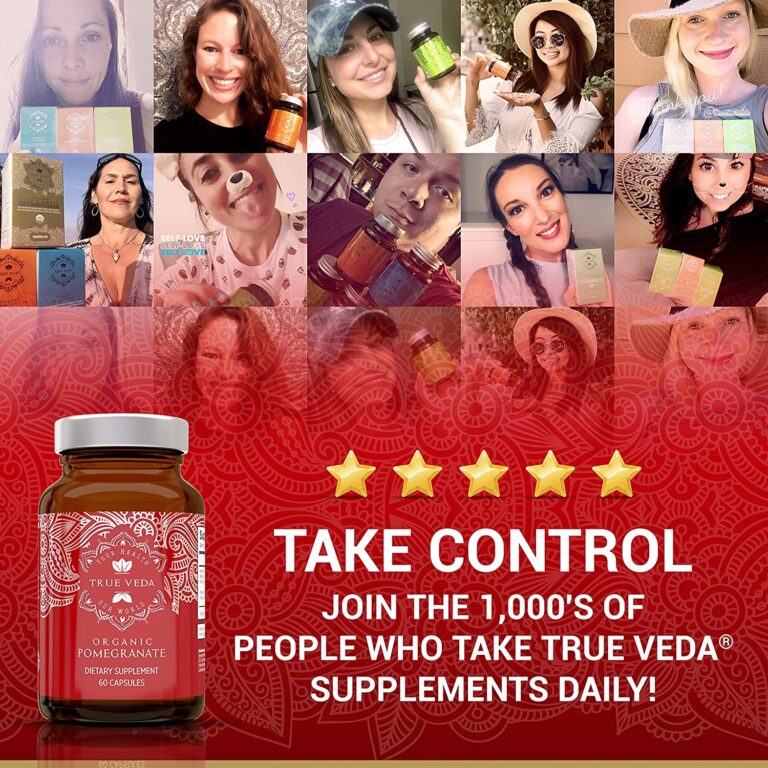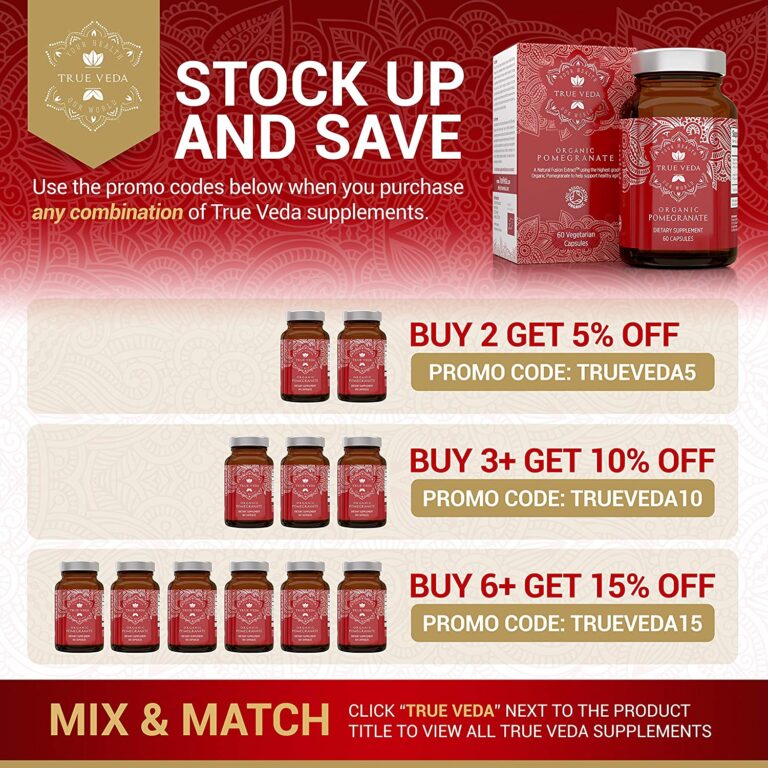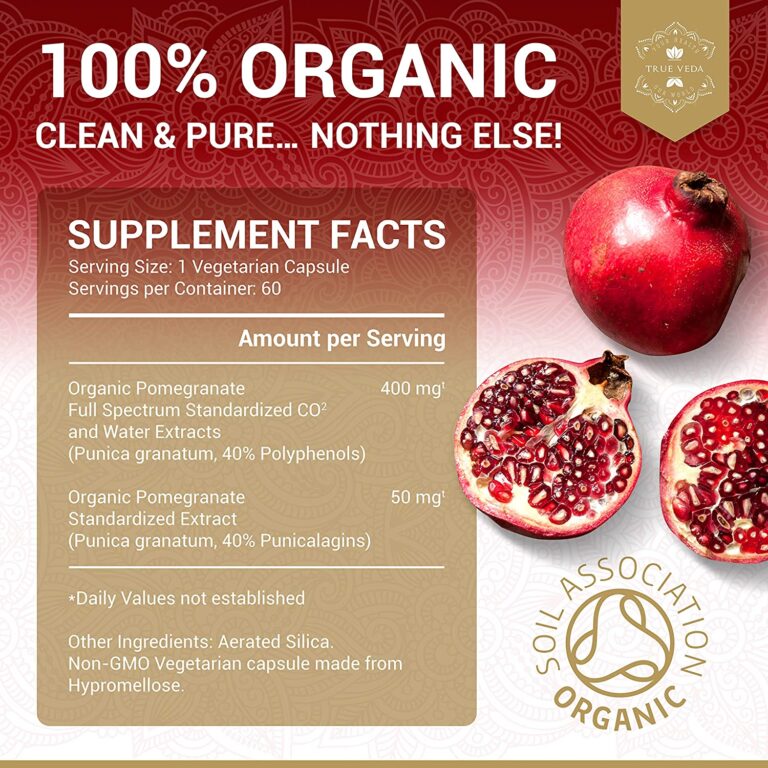 Organic Pomegranate Capsules – Certified Organic by Soil Association | Vegetarian & Vegan Friendly | Ayurveda | 60 Easy Swallow Pomegranate Tablets | Manufactured in The UK
Product Description
---
Product Description
TRUE VEDA
ORGANIC POMEGRANATE EXTRACT
Our product only contains whole fruit pomegranates from the juice, peel, seed, and membrane of pomegranates to create our rich organic and natural extract. Our pomegranate extract has numerous benefits for both men and women so try for yourself and tell us what you think.
WHY NOT TAKE POWDER OR JUICES?
Juices and powders can be high in sugar and on a daily basis difficult to consume enough to take advantage of the fruit's nutrients. Our vegetable capsules are unique as they contain high levels of Punicalagins which are extracted in a natural way from the pomegranate making them water-soluble, highly bioavailable and absorbed by the body at a rate of up to 95%!
Premium Benefits
Whole Fruit Extract

High Punicalagins & Ellagic Acid Content

Soil Association Organic Certified

Enhanced Bioavailability

Unparalleled Absorption

Vegan & Vegetarian Friendly

No Additives & No Preservatives

Manufactured in the UK
Soil Association Organic Certified

Without the Soil Association organic seal of approval clearly displayed you can never assure the authenticity of an organic product. True Veda always goes the extra step to be transparent and authentic with our products so we invest the time and energy to be fully Soil Association compliant. True Veda are one of only a few companies that believe in showing our customers an iron-clad assurance that we are totally committed to being clean, pure & organic.

Keep Healthy*

Perform aerobic exercise, eat lots of fruits and vegetables, moderate your sodium and alcohol intake, and take our unique supplement, and you'll be way ahead of the game when it comes to giving your body what it needs for a long, healthy life.

Highly Potent & Bioavailable

Our True Veda Pomegranate vegetable capsules are unique as they contain Punicalagins. Punicalagins are extracted in a natural way from Pomegranate and are water-soluble, highly bioavailable and absorbed by the body at a rate of up to 95%! No other supplement gets close!

Natural Fusion Extract

Avoid harsh solvents and alcohol residues in your herbal extracts by only using our pioneering and patented technology. With the technology we have developed we can extract all the plants active components and nutrients in the most natural way using only water and clean carbon dioxide gas. Unlike other brands with this process we can promise you that we will never leave any type of chemical residue in our finished products. When choosing brands always remember higher milligram content does not necessarily translate into strength and efficacy. Choose a trusted brand you can believe in.
Safety Is Our #1 Priority

From the organic farms where our premium grade herbs are grown & harvested all the way to the pure and clean capsules that you have in your hand. All our products are manufactured in state of the art GMP certified facilities and independently tested multiple times by third-party laboratories to ensure safety is never compromised.

Science Backed Ayurveda

True Veda prides itself in combining the 5000-year-old ancient wisdom of Ayurveda with modern science backed research to bring customers superior, extensively researched supplements that are made for today's generation. Our supplements are designed to work with your body's natural intelligence and your own positive life choices to support your well-being and inspire your best life. Wellness isn't just about living longer — it's about living better.

Building Brighter Futures

Together we can help children in India to gain the lifelong gift of education and to build a brighter future. We are proud to support The Akshaya Patra Foundation so for every True Veda purchase you make we donate a school meal to a hungry child in India. With the help of customers like you, we've already impacted millions of children's lives — and we're just getting started.

*Food supplements should not be used as a substitute for a varied diet. This product is not intended to diagnose, treat, cure, or prevent any disease.
| | | | | | |
| --- | --- | --- | --- | --- | --- |
| | Organic Amla | Organic Ashwagandha | Organic Turmeric / Curcumin | Organic Triphala | Organic Green Tea Extract |
| Features | Natural Vitamin C, High Absorption, Plant Based | High Absorption, Plant Based, Award Winning Ingredients | Contains over 200 active compounds inc. 55% Turmerones, 30% Curcuminoids, 30% Piperine and 5% Gingerols. | High Absorption, No Binders, No Fillers, No Additives | High Absorption, Plant Based |
| Ingredients | Organic Amla | Organic KSM-66 Ashwagandha | Organic Turmeric, Organic Ginger, Organic Black Pepper | Organic Amalaki, Organic Bibhitaki, Organic Haritaki | Organic Green Tea Extract |
| Natural Fusion Extract | ✓ | | ✓ | ✓ | |
| Capsule Size | 440mg | 300mg | 450mg | 400mg | 400mg |
| Soil Association Organic Certified | ✓ | ✓ | ✓ | ✓ | ✓ |
| Vegan Friendly | ✓ | ✓ | ✓ | ✓ | ✓ |
| Quantity | 60 Capsules | 60 Capsules | 60 Capsules | 60 Capsules | 60 Capsules |