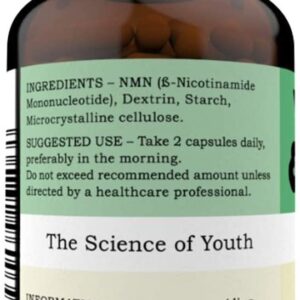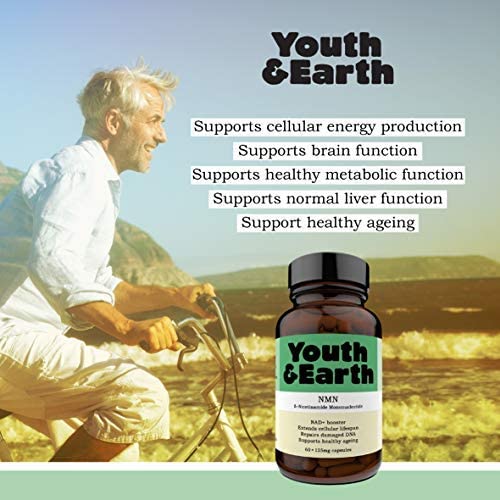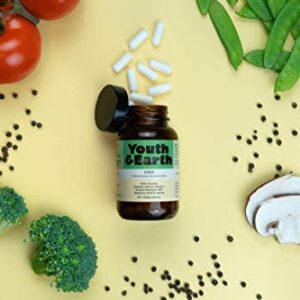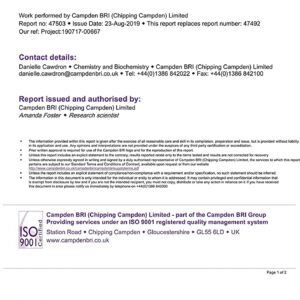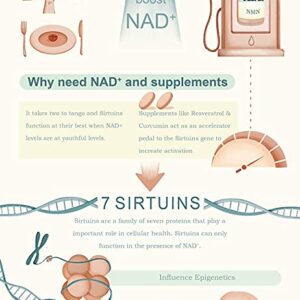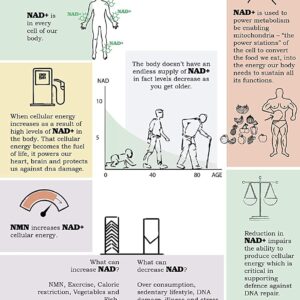 Youth & Earth NMN Nicotinamide Mononucleotide | Delayed-Release Capsules 125mg | Repairs Damaged DNA | NAD+ Booster Supplement| Anti-Aging & Metabolism Booster Made in The UK
Product Description
Product description
Youth & Earth NMN is an NAD+ booster that is found in every living cell within the body and is responsible for fuelling the mitochondria: the body's powerhouses. As we age, we begin to rapidly lose NAD+ – in fact, our NAD+ levels drop between the ages of 40 and 60! Less NAD+ means your cells are less capable of producing the energy they need to maintain our health as we age.
Youth & Earth NMN boosts the NAD+ levels, helping fight off the effects of aging. So, how can we maintain and increase NAD+ levels in our bodies? There are several ways to do so, including exercise, calorie restriction, and the regular consumption of fish and vegetables. You can also consider supplementing with the NAD+ precursor, NMN. Youth & Earth offers you a 100% Natural NMN Supplement!
Age better with Youth & Earth NMN
Unlike traditional anti-aging products that merely scratch the surface, Youth & Earth NMN goes deep below, addressing the roots of aging. By boosting your NAD+ levels, it activates your body's natural defenses, helping you age gracefully while looking and feeling your best.
Restoring the NAD+ levels in your body can:
Contribute to the reduction of tiredness and fatigue
Promote and Support NAD+ Levels
Promote the maintenance of normal skin
Supports Healthy Aging
Supports Energy Metabolism – works like metabolism booster
Support cellular repair & Cellular Health (Mitochondrial Boost)
Become Your Best Self!
Whether you need to keep your body or your mind at peak condition, we have the right supplement for you. Start enjoying the results that last with Youth & Earth NMN NOW!
Ingredients
125mg NMN (β-Nicotinamide Mononucleotide); Capsule: Dextrine, Starch, Microcrystalline cellulose
Directions
Recommended use: As a dietary supplement, take two to four capsules in the morning. We recommend you store your NMN in a refrigerated environment and keep out of a hot or humid environment.
Safety Warning
For adults only. Always consult your physician if pregnant/nursing, taking medication, or have a medical conditions. Keep out of reach of children
Legal Disclaimer
For adults only. Always consult your physician if pregnant/nursing, taking medication, or have a medical condition. Keep out of reach of children