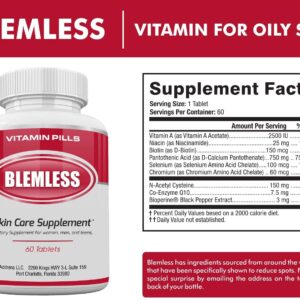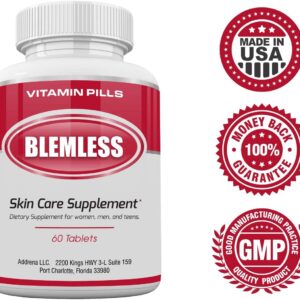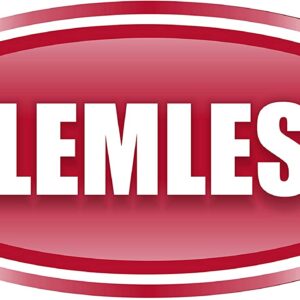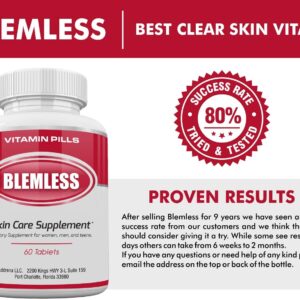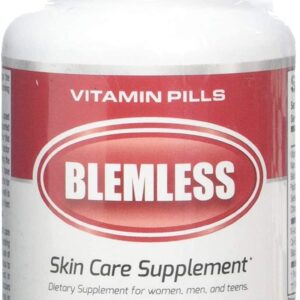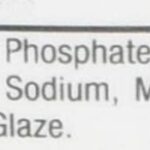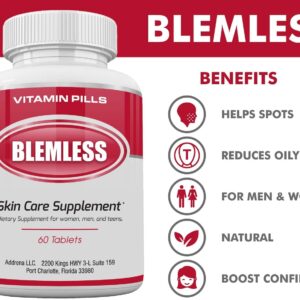 Blemless Clear Skin Supplements Pill UK- Best Tablets for Oily Skin and a Glowing Complexion | Vitamin Pills for Women & Men That May Help Some Spots & Blemishes 60CT
Product Description
---
Product Description
Blemless is a natural vitamin supplement which works to clear your skin from the inside out. Blemless helps some to achieve these results from it's highly effective ingredients which work in synergy to get you the best results possible.
We are there for you with resources such as our Blemless FAQ because we make sure to do everything in our power to give you a pleasurable shopping experience. Blemless has the best supplements for oily skin as it is a vitamin, mineral, and amino acid for optimal skincare.
NAC:

No clear skin pill is the best natural solution for men and women without NAC. NAC naturally contains sulfur which may help detoxify.

Vitamin A:

Studies show it to be an effective natural vitamin for skin. It is added in at a safe dosage for consumption.

Vitamins B5:

Studies have shown these vitamins act as a helper for some skin breakouts. Because it is a water soluble vitamin it can be safely be taken at a higher dose than vitamin A.

Chromium tablets:

Maintains blood sugar levels which can worsen skin issues making it a helpful oral supplement.

Biotin:

This supplement when taken with other vitamins may have a beneficial effect as a remedy for some blemishes.

Selenium:

May have an anti-inflammatory effect that benefits breakouts by reducing the appearance of some inflamed lesions on the skin.

Vitamin supplement B3

: Niacin helps circulation in our skin and helps the body absorb vital proteins necessary to fight off oily greasy skin.

Co-Enzyme Q10:

Heals skin more quickly after breakouts because of its effect on collagen production.
Designed For Oily Skin
Blemless works to help some to DECREASE REDNESS, INFLAMMATION, AND REDUCE BOTH PORE SIZE AND HEALING TIME in a natural way.
Clears skin from the inside out with effective ingredients such Vitamins A, Pantothenic Acid (B5), NAC, Selenium, and other vitamins for skin that help control excessive sebum levels.
The best vitamin supplement pills to help reduce oily skin to give a glowing complexion. This clear skin supplement actually works for some people! It's worth giving a try!