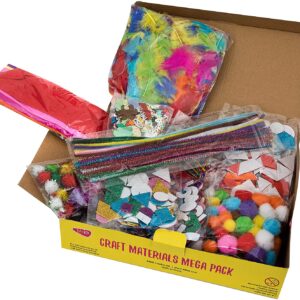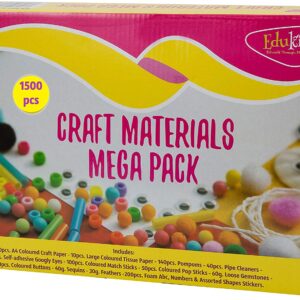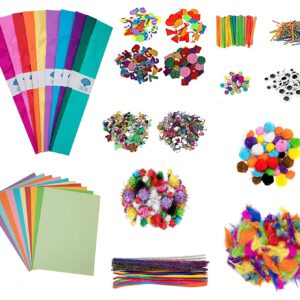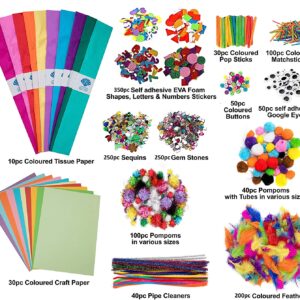 edukit Arts and Craft for kids 1500 Pieces, Including Pipe Cleaners, Pom Poms, Sticky Gems, Googly Eyes, Foam Sheets, Feathers, Tissue and Craft paper, Matchsticks in Various Sizes and Colours
Product Description
---
Product Description
The Ultimate Arts & Craft Materials Mega Bumper Pack
All the projects
Sit back and watch your creative creatures work on their magnificent projects with glee

Relax as they explore boundless opportunities to project their ideas into crafts
Why they'll love it
Endless arts and craft creations

Rainy day activity

Connect with others to build friendships

Vibrant assortment of colours
Why you'll love it
Encourages creativity

Develops communication with others

Fosters the recognition of different concepts and ideas

Enhances motor skills to ensure your child understands how to work with their hands from an early age
Endless Creations

1,500 pieces of Keep 'em Busy! This huge set empowers your little ones to get creative and explore their inner artist.

Vibrant Colours

With such a vibrant colour set you can ensure they'll never be left bored or fed up with the same bland designs.

Improve Skills

Utilising crafts is an excellent tool to build your child's motor skills from an early age.

Builds Friendships

We believe it's important for children to understand how to communicate with one another – working on a shared task in a creative environment is excellent for this.
Gender Neutral

This craft set is not exclusive to any gender, it's been designed for all to enjoy and with a wonderful array of varying pieces.

Huge Collection

With such a comprehensive crafts selection, you can rest in peace knowing you won't be disturbed for quite some time.

Sturdy Box

Delivered in a sturdy box reduces the risk of bits going missing.

Well Organised

Inside the box you'll find a carefully organised breakdown of the 700 piece set.