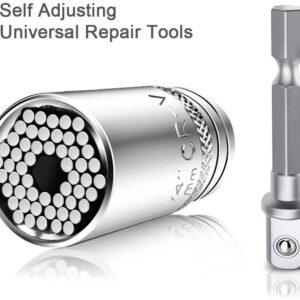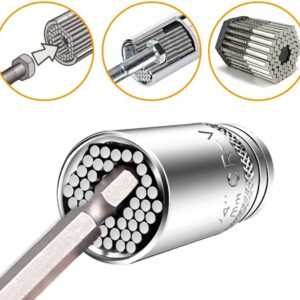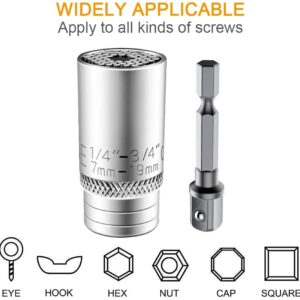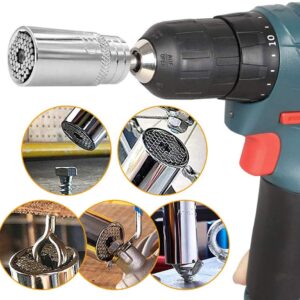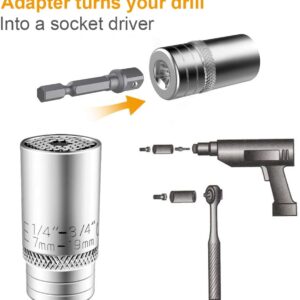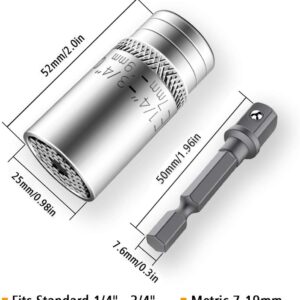 Universal Socket Wrench Set – Maxesla 7-19mm Multi-Function Hand Tools Universal Repair Tools Kit, Self-Adjusts Professional Grip Socket Ratchet Wrench, High Hardness Steel, with Power Drill Adapter
Product Description
● 【UNIVERSAL】Unique design automatically adjusts to any size or shape, grasp the hex nut, wing nuts, screw eye, lag screws, hook, tension screw and bolt head, ect. Unscrew any bolt, nut, and other fasteners that you don't have the right tool for.
● 【MULTILATERAL】High quality chrome vanadium forging, internally constituted by 54 high-carbon steel spring pins that retract to the shape of most objects. High hardness, durable, all for making anti-rust tool.
● 【UNIVERSAL SOCKET SET】Professional grade universal ratchet socket set, comes with a 3/8″ power drill adapter. The way it sets up with the wrench more leverage than a screwdriver to turn tighter screws. Replaces a tool box full of tolls and so easy to use.
● 【PROFESSIONAL】Professional grade universal socket fits standard 7mm(1/4″) to 19mm(3/4″) bolt heads, self adjusting universal repair tools. Can be used in automotive industry, household maintenance, manufacturing industry, construction.
● 【COMPACT & DURABLE】100% brand new and high quality, perfect addition to your toolbox. 3 months money back GUARANTEED with 12 months manufacturer's warranty, and 24 hours customer service.